There are 7 major Chakra energy  centers in the physical body, where vital energy flows and intersects.  Through our Chakras, we transmit and receive physical, emotional, and spiritual energy.  The chakras are manifested in one's physical state.  The best case senerio is to have all chakras clear, balanced, and vitalized for optimal well-being.  The chakra system goes back to ancient eastern medicine.  Each chakra is associated with a particular area of the body and a color.  Crystals and Stones are used at chakra centers for clearing, revitalizing, and healing.  Although most stones of a specific color will be the stone for healing a particular chakra, some stones may be used to heal more than one chakra.T here are many stones for each chakra, and various crystals may be particularly powerful to aid you to heal in different ways. There is a wide range of healing attributes that pertain to various stones and the things that they are known to remedy. As you gain knowledge of what health issues are healed by the various crystals that you have, you will be able to take personal responsibility for your own healing.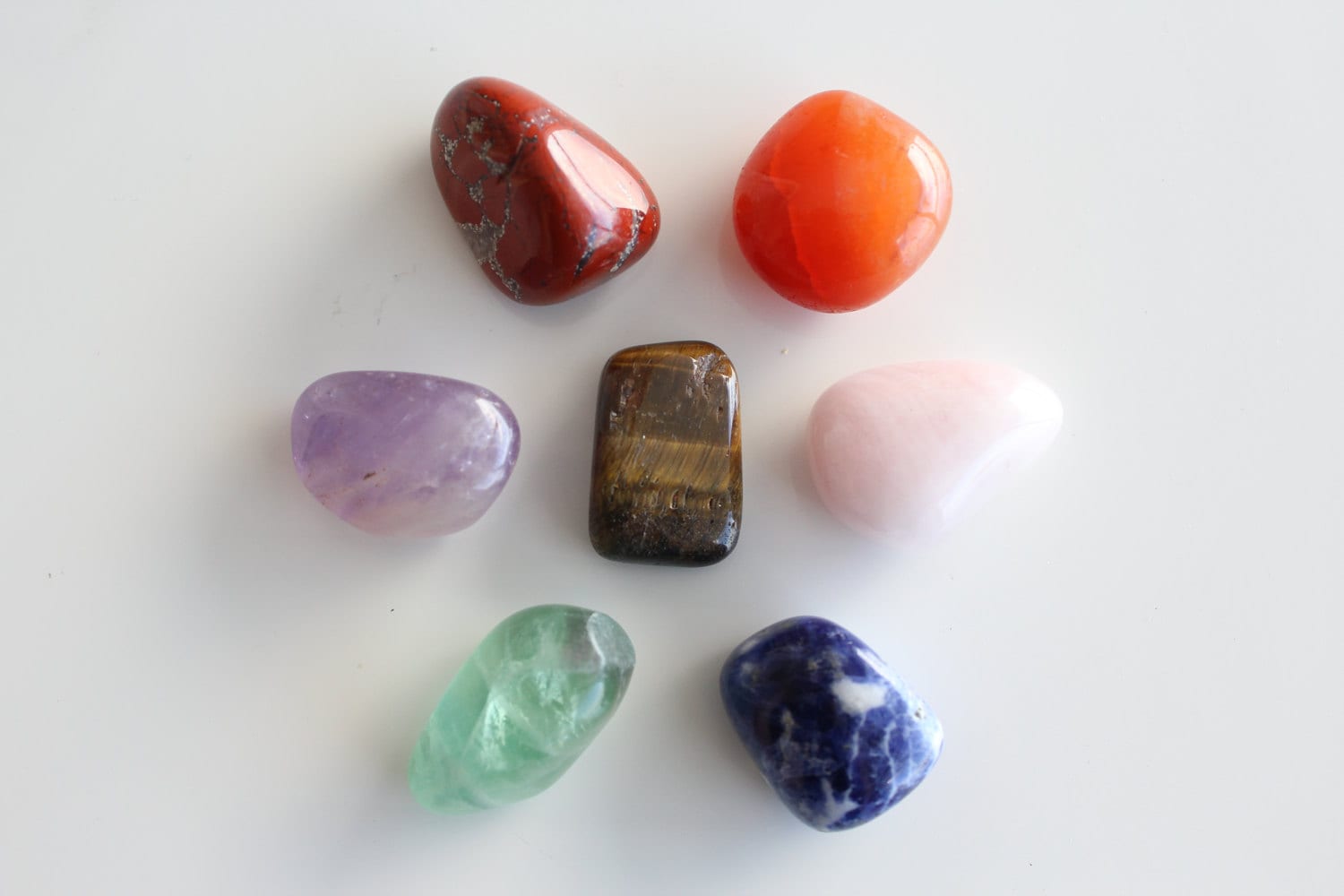 Each stone corresponds to a certain chakra helping to remove blockages and allow healthy energy flow. 
While laying on your back, place each stone on each chakra while allowing your body to relax, rejuvinate, and let go of all imabalnces or negative energies. 
Chakra Set Includes the 7 Gemstones displayed in the images provided which include:
1st Chakra:
Red Jasper activates the Base Chakra and stimulates the seven chakras, cleansing and strengthening the aura. It is a stone of passion, useful for restoring and rejuvenating the libido, and in manifesting creative ideas. (Red)
2nd Chakra:
Carnelian is a stabilizing and energizing stone that helps you to find inner strength, courage and abundance. (Reddish Orange)
3rd Chakra:
Tigers Eye Stone is a crystal with lovely bands of yellow-golden color through it. This is a powerful stone that aids harmony and balance, and helps you to release fear and anxiety. It stimulates taking action, and helps you to make decisions with discernment and understanding, and unclouded by your emotions. (Bands of Golden Yellow)
4th Chakra:
Rose quartz is considered a master healer when it comes to all love related matters – be it lack of self love or painful romantic love experiences. Because rose quartz is so powerfully connected to the heart chakra, and because it constantly radiates a soothing flow of love, this is the absolute best healer or the heart stone. (Soft Pink)
5th Chakra: 
Lapis Lazuli resonates with the vibration of truth and enlightenment, and are powerful intense blue stones for opening the third eye and stimulating the pineal gland. (Blue)
6th Chakra: 
Amethyst activates spiritual awareness, opens intuition and enhances psychic abilities. Creates clarity of mind, calming. (Purple)
7th Chakra: 
Fluorite promotes spiritual and psychic wholeness and development, protection, and brings peace. It helps one meditate and learn to go past the "chatter" that our minds tend to generate when first learning to meditate. Fluorite protects psychically as a psychic shield, protect from chaotic vibrations by evening them out in an orderly manner. It is used to clear energy fields and auric cleansing in particular.  (Color varies from Green to rainbow to purple.)
Click here to purchase the chakra stones seen in the pictures 
Click here for more information on Chakra Healing with Crystals 
Namaste,
Cindy